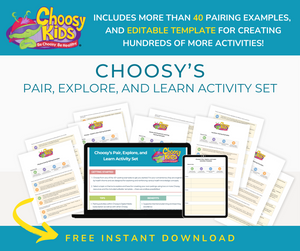 Choosy's Pair, Explore, and Learn Activity Set - FREE download
Description
Choosy Kids resources stand alone as unique and innovative curriculum enhancements and now we've taken them to the next level with Choosy's Pair, Explore, and Learn Activity Set!
This FREE innovative resource pairs and blends activities from multiple Choosy Kids resources to expand early learning, and builds a foundation of health literacy for children and families by developing health enhancing knowledge for personal application.
Includes more than 40 pairing examples, plus an editable template for creating hundreds of additional unique activities to support intentional planning and teaching excellence.
For use with two or more of these Choosy resources or Choosy's Active Learning Bundle:
(resources sold separately)
• Move and Learn with Choosy System
• I Love My Teeth Song and Activity Set
• Be Choosy. Be Healthy. Storybook
• Choosy's Digital Media Subscription